Recommended Article #16August22
Hi, Pet Parents Resources is a platform, where we share with you, what we research as pet parents ourselves. Here, we curate and give, what we hope would be, interesting to important informative articles, videos and even podcasts from our brand creators, experts, researchers, and more all over the world, to aid you in making better choices for your pets.
This recommended article "PawTection vs. Paw Soother: What's Best For Your Pup?" is curated and sourced from Natural Dog Company. If you loved this article, please do feel free to share it around.
PawTection vs. Paw Soother: What's Best For Your Pup?
Being a pawrent is a huge responsibility. A dog's well being goes far beyond a shiny fur coat, and keeping up with the maintenance requires both prevention and intervention methods. Bet you did not know that this applies to your pup's paws! In fact, paw health is a vital component for your pup's overall well being.
PROTECT & PREVENT WITH PAWTECTION
Protect your pup's paws from damage with PawTection! PawTection is a natural wax blend balm that provides a protective and nourishing barrier for paw pads and is most beneficial as a preventive treatment. Therefore, we highly recommend usage before any high activity level and/or exposure to extreme climates and terrains.
Activity Levels
An active dog is a happy furkid. From that daily walk in the neighborhood, to that run at the park, our canine friends benefit from regular exercise. Unfortunately, such outdoor activity and play will cause natural wear and tear to the pup's paw pads. Want to keep those Fido's paws from damage? PawTection to the rescue! A little goes a long way; simply apply a layer of Pawtection to each paw to minimize scratchy paw pads and general wear and tear.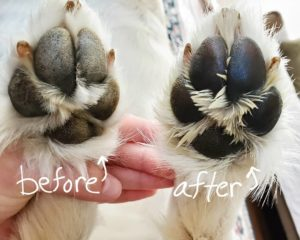 Extreme Climates and Terrains
While dogs are pretty tough creatures, their paw pads are naturally sensitive and are meant to remain soft. It's important to remember that Mother Nature can take a toll on your furry friend. Think of it this way: if the weather outside is uncomfortable for you, it is probably just as uncomfortable for your furry friend too!
If you were to live in a temperate country, there would definitely be more to worry about. The cold winter may have freezing temperatures and snow that could cause your canine friend to have frostbite; ice could cut paw pads, salted roads could scratch those soft paws, exposing your poor friend to unwanted deicing chemicals and toxins.
Summertime has its own share of harmful elements: seasonal irritants, chemicals like pollen and fertilizers, and sizzling sidewalks from hot temperatures that could burn and blister your dog's paw pads. Every pawrent wants a happy and healthy pup, but harsh elements and extreme conditions could cause serious damage. Protect and nourish your pup's paws with a layer of Pawtection before going outside, and you could be saving yourself a trip to the vet!
HEAL & SOOTHE WITH PAW SOOTHER
Dry, cracked, even hairy and itchy paws are all paw woes that could cause some serious disruption to your furry's friend playtime. Heal and soothe the pain and irritation with Paw Soother, an all-natural product that could help with that paw issue your pup may be having.
Rough or Cracked Paws
Dry and scratchy paw pads are normal over time with all that our furry friends do, but they are not supposed to stay that way! Paw Soother has a natural butter blend with Vitamin E formula that is ideal for moisturizing those dry paw pads, and even contains Calendula Extract that gently soothes and softens irritated or cracked skin.
Allergies
Find that your dog is licking or biting his paws more than usual? Allergies are likely the culprit in this case. Excessive licking or gnawing will eventually give way to more significant issues like abrasions, or worse, an yeast infection, so do take action quickly if you see your pup licking his paws. Paw Soother has a combination of anti-inflammatory, antibacterial, and soothing ingredients that are perfect for managing allergies that could be bothering your furry friend.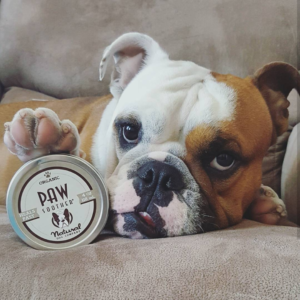 Hyperkeratosis
Hyperkeratosis is a condition caused by an overproduction of keratin that causes a dog paw to get thick and crusty, often looking like a layer of fuzzy hair growing on the paw pad. This is generally, and usually, the symptom of a more serious condition. There is no known cure for hyperkeratosis, but Paw Soother contains ingredients that would quickly work to heal and moisturize paw pads, minimizing symptoms so that your pup feels more comfortable.
Cuts, Scrapes, & Scars
No matter how proactive and careful you are when it comes to your furbaby, accidents happen! Paw Soother can help with that paw or paw pad cut. Its healing and disinfecting properties are gentle enough to use on a wound, while the moisturizing and antioxidant ingredients are strong enough to eliminate visible scars.
CONSISTENT PAW MAINTENANCE = A HEALTHY, HAPPY PUP
Paw health is essential to a dog's well-being. Healthy paws not only give your pup the support needed when exercising, the extra cushion will help with supporting the bones and joints. Fido cannot do it alone, so it is up to you to protect and maintain their paws!
Regularly checking your pup's paws for cuts, cracks, swelling, and sticks, or burns is a good habit to have. Having PawTection and Paw Soother on hand makes it easier for you to maintain a pawfect routine.
An easy way to remember their usage: PawTection before going out and Paw Soother before bed.
Not only will your fur friend be a happier dog with healthy paws, you can sleep well knowing that your fukid is not struggling with pain or infections! Spoil your furkid silly with those loving pawdicures and massages, you will be thanked with more love in return!
PREVENTION & INTERVENTION WITH NATURAL BALMS!
So remember, PawTection is used to prevent damage, Paw Soother is used to heal existing damage. Together, it is the pawfect combination for healthy paws!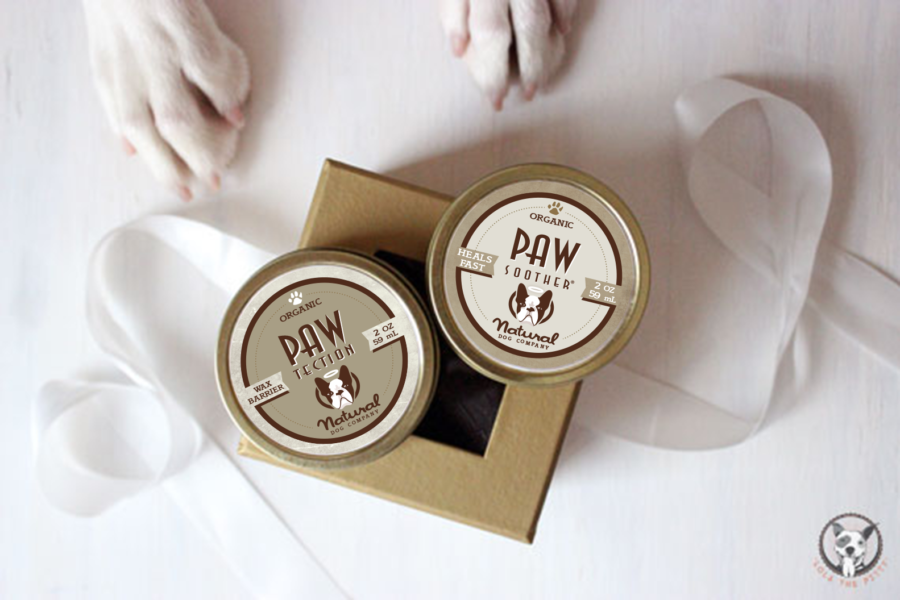 Both of the PawTection and Paw Soother balms produce wonderful results on their own, but their collaborative qualities will have your furry friend living the happiest, healthiest life, giving you the peace of mind that you deserve!
You can purchase PawTection and Paw Soother together from JJ E-Homez Holistic Pet today!
---
You may find more interesting reads from JJ E-Homez Holistic Pet today! Look out for loads of information on our product pages, social media, especially our Pet Parent Resources page.
JJ E-Homez Holistic Pet, a Singapore online pet store that focuses on the holistic well-being of your beloved furkid. Our recommended products aim to support and improve health, emotional and physical well-being, and help your pet have a better quality of life without compromise. Look out for Essential, Trendy and Premium quality pet products that are specially curated, with the pet parents concerns' as a priority.
This blog first appeared on the Natural Dog Company website, where this article "PawTection vs. Paw Soother: What's Best For Your Pup?" was curated and sourced from.
Original source: https://naturaldogcompany.com/pawtection-vs-paw-soother-whats-best-for-your-pup/
Thank you for reading! We hope to bring you more informative and exciting articles from other resources and our varying retail brands. Through them, we hope more and more pet parents could become their pet's wellness heroes, proactively taking control of their pets' foundational health from within, with JJ E-Homez Holistic Pet - www.jjehomez.com.sg 😊
---
Disclaimer:
JJ E-Homez Holistic Pet has curated and reproduced this article in good faith, which may contain an element of consumer opinion, but cannot be held responsible for any information inaccuracies in it or any use assumed from this information by the reader. JJ E-Homez Holistic Pet welcomes positive recommendations for holistic healthcare products, but does not necessarily endorse the author's opinion. We acknowledge each animal is an individual and may react differently to the highlighted product/s, and that there may also be other similar effective products available.
General recommendations made by JJ E-Homez Holistic Pet are solely for informational and educational purposes, and are not a substitute for the appropriate veterinary care. It is important to always consult professional help if you have concerns about your furkid's health.
---
---
Related products