Dr Judy Morgan's Naturally Healthy Pets
Dr. Morgan grew up in Pitman and Woodstown, New Jersey, where she graduated high school as valedictorian in 1977. In 1980 she graduated from Rutgers with a Bachelor of Science and received her Doctorate of Veterinary Medicine from the University of Illinois College of Veterinary Medicine in 1984. Dr. Morgan is also a certified and accredited veterinary acupuncturist, chiropractitioner, and food therapist.
After 36 years, Dr. Morgan retired from clinical practice in 2020. She now focuses on speaking, creating educational content, online consultations for clients, and her webstore.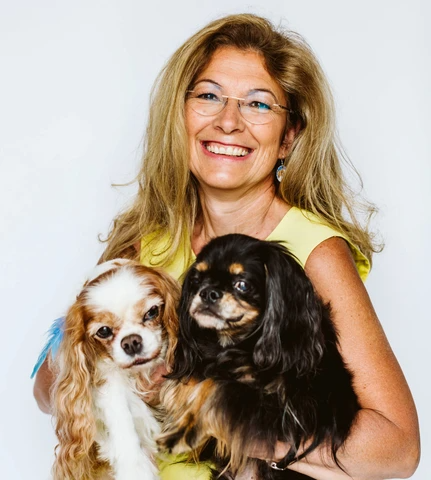 (Credit: Megan Morales Photography)
Dr. Morgan spends much of her time working with Cavalier King Charles Spaniel and English Toy Spaniel rescue groups by assisting in finding, transporting, and fostering neglected animals. She is Chief Veterinary Medical Officer for Monkey's House dog hospice and senior sanctuary. She also enjoys public speaking and giving presentations at local, national and international continuing education venues.
She is a best-selling author of four books, hundreds of online and print magazine articles, and hosted her own Naturally Healthy Pets radio show on DreamVisions7 Radio network for two years. She has been featured on Fox News, local cable television, CNN, PBS, ABC, CBS, and as a guest on over 200 radio shows. Her goal is to change the lives of over ten million pets by educating and empowering pet owners worldwide in the use of natural healing therapies, minimizing the use of chemicals, vaccinations, and poor quality processed food.