Consult with Canine Herbalist, Rita Hogan
Rita Hogan is a canine herbalist.She can work together to evaluate your dog's needs and create a comprehensive care plan. Let her know how she can help you!
"BELIEVING THAT DISEASE IS THE RESULT OF IMBALANCES IN THE BODY, I TEACH YOU HOW TO USE A COMBINATION OF DIET AND HERBS HELPING RETURN YOU OR YOUR DOG BACK TO BALANCE.."
This is for a 60 minute call with Rita Hogan. For all calls under 60 minutes you'll be refunded $1.41 USD per minute. Speak to Rita Hogan now!
The package Includes:
Going over paperwork via phone or zoom and answer any questions you may have.
Spending time going over your paperwork, vet history, additional submissions and create an individualized herbal protocol with possible food recommendations for you or your dog.
Present you with an herbal protocol with suggestions and product links. Questions and answer included.
2 follow-up emails for any additional Q & A.Speak with Rita Hogan today!
Note: if your dog is diabetic, Rita is unable to help you. Please see a veterinary herbalist or homeopathic vet instead.
About Rita Hogan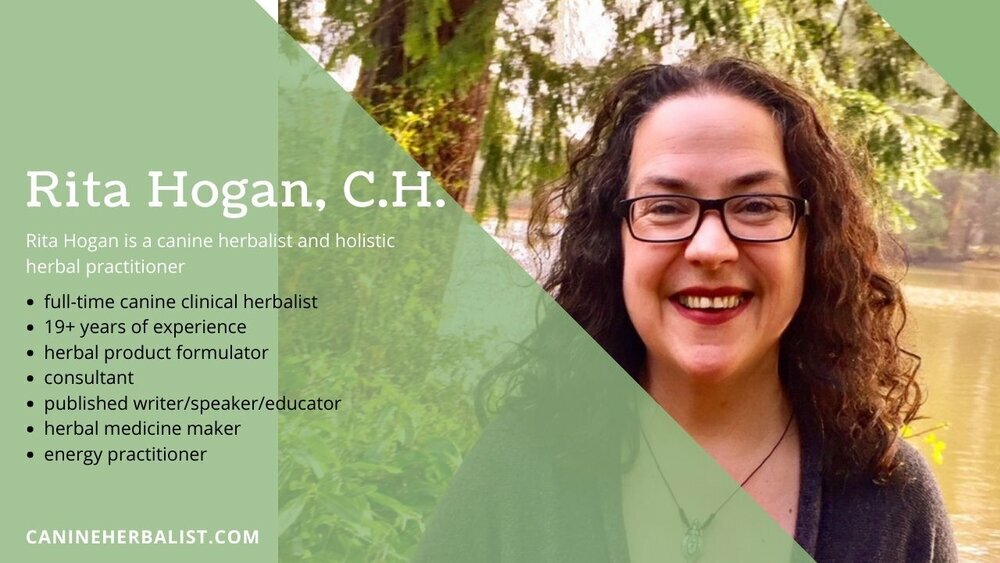 I've been studying herbs and natural healing for close to 20 years. My passion for plants, people and our canine friends come together in my teaching and herbal coaching. Looking forward to getting to know you!
My Background - The Short Of it.
I've been working one-on-one with dogs and owners for almost 20 years. I learned about the power of plants from my father. He was a prolific gardener who knew what plants to use to help keep our animals healthy. This lead me to herbalism in my late twenties. I consider myself a Western holistic herbalist.
My practice has grown throughout the years encompassing the use of food energetics, western herbs, phytoembryonic therapy (plant bud medicine), spagyrics, homeopathy, essential oils, flower / crystal / mineral essences and energy work.
I have done apprenticeships with elder herbalists, taken key seminars with herbalists and healers helping me further my understanding of plants. Teachers like Matthew Wood, Dr. Isla Fishburn, Sean Croke, Paul Bergner, Carol Trassato, 7Song, Dr. Joseph Carrillo, Joette Calabrese and Sajah Popham.
I've studied the works of Cheryl Swartz, Christopher Hobbs, Stephen Blake, Joe Rozenewajg, David Hoffman, EagleSong, John Gerard, Juliette de Bairacli-Levy, Susan Wynn, Barbara Fougere, Jim McDonald, Sean Donahue, Maya Tiwari, Michael Moore, Leslie Tierra, Michael Tierra, Thomas Garran, Gregory Tilford, David Crow, Phyllis Light, Dr. Christopher and others.
Since I moved to Olympia, Washington, I've attended the Hawthorn School of Medicine with herbalist Sean Croke, worked with Carol Trasatto, taught community herbalism classes and continue my education as much as time allows out of clinic.
I'm a writer for Dogs Naturally Magazine, Adored Beast Apothecary, and Authentica Pets. I speak on canine herbalism and teach classes to promote holistic canine herbalism. I work specifically with dogs of all types and the humans that love them.
Yes my practice encompasses working with both humans and dogs. Usually people see how well things work out with their dogs and want herbal wisdom for themselves.
My Story - The Long Of It.
I grew up with my hands in the dirt. I remember grabbing each plant in the garden as my dad worked his crops saying, "Daddy, what this? He would answer and I would ask, "can I pick it?" I must have said this 200 times and he would just answer yes or no, explaining what each plant was as we went along during the seasons. I would always pick helping my dad on the farm over being in the house. My father used many of our farms available wild herbs and vegetables as whole plant medicine to support, cleanse and heal our horses, pigs, chicken and cows.
My grandmother also used whole plant medicine in the form of herbs, poultices, tinctures and teas to raise her family of sixteen during the great depression of the 1930's. Medical care wasn't accessible and she took care of her children independently with the occasional help of a midwife. Herbalism is in my blood.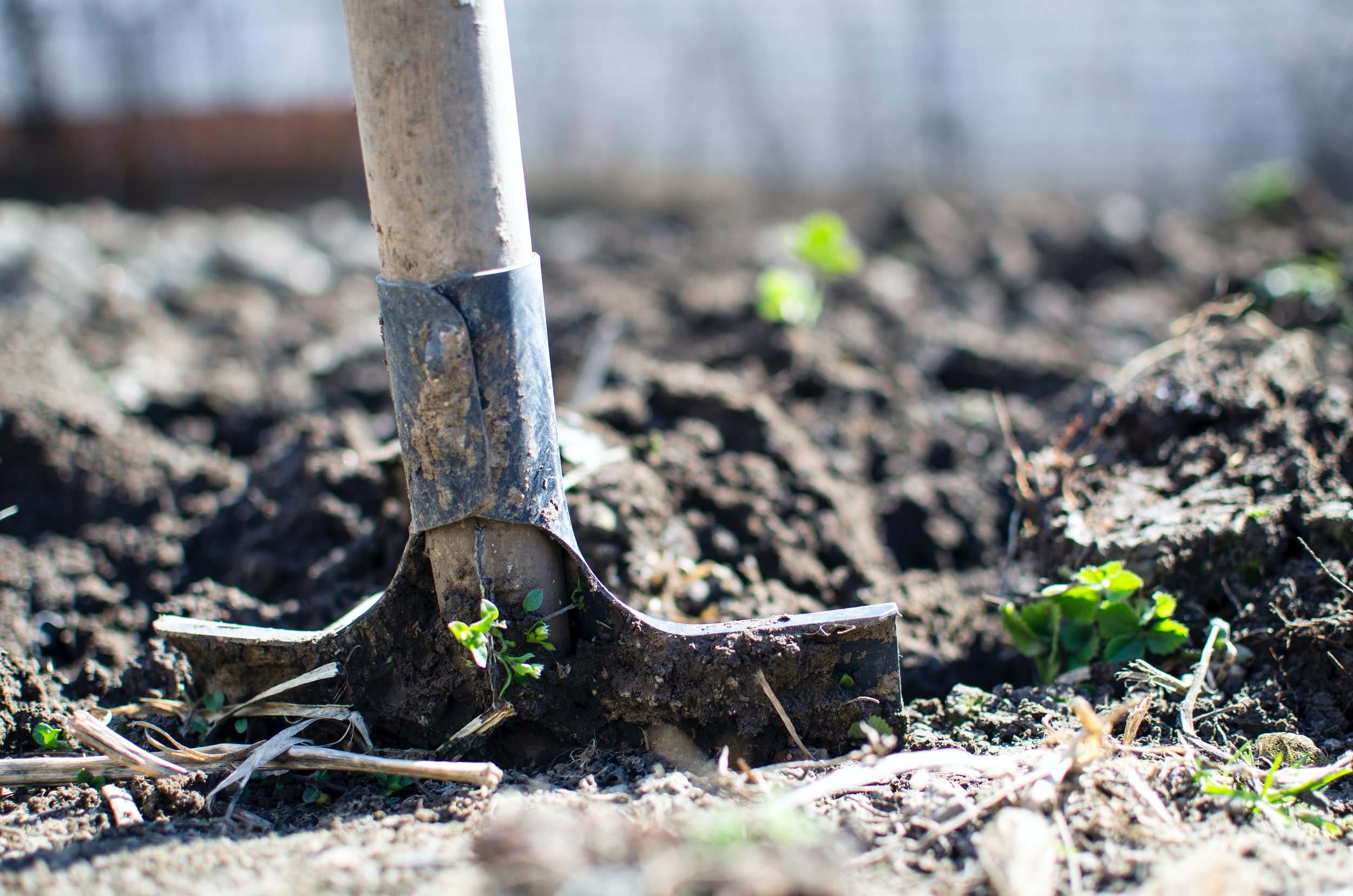 Growing up in a rural environment, I spent a lot of time in the fields and forests learning what each flower was, where the tadpoles were and wildcrafting for my dad and my best friend's mother. At the time, I didn't even know I was wildcrafting, I would pick what my dad wanted or my friend and I would roam around her property looking for her mother's wish list.
In my early twenties I studied Ayurveda and Buddhism. In my late twenties, I started my formal studies of plant identification, function, energetics, history and lore. In 2002, I began blending those studies with my love for dogs. I have obtained most of my experience through self-study, working with other herbalists, nutritionists and my role as co-director of Music City Holistic Pug Dog Rescue. Together with dog expert, Peg Harrington, we operated one of the first holistic dog rescue's in the country.
When I was 32, I gave my life over to the fur and slobber when I opened a holistic kennel-free boarding facility on 36 acres in the Cumberland mountains. Shortly after this I began noticing the direct connection between behavior, diet, vaccination and glandular imbalances. Through my work with my client's dogs and all of our rescue pugs, it gave me the experience I needed working with difficult cases of disease and behavior.
For the next decade I threw myself into my work, started making medicines, read everything herbal book I could get my hands on, asked the locals about what they knew about the plants they used as medicine growing up (thank you Ralphston Overstreet) and began dedicating myself as a canine centered herbalist.
In late 2005, I started Farm Dog Naturals, an herbal remedy company for the all-natural dog selling my remedies to local dog stores. In early 2007, I officially became an LLC with another dog expert, Lynn Higgins. Together we have helped dogs and people have a more sustainable experience together through nature. We passed on Farm Dog Naturals to a new owner in late 2021.
It's now 2022 and I'm thriving. I have a busy clinical practice in Olympia, Washington working with clients from all over the world, I make my own medicines, teach herbalism every week through mentorship and local classes. I'm a speaker and writer. Currently, I am working on my second herbalsim course and writing the first of three books on canine herbalism.
I'm so grateful for all of my teachers, both direct and indirect. I'm also grateful for all of my clients and students as you have been a weath of knowledge and reflection. You never stop learning.
The journey continues…
Being an herbalist
As an herbalist I continue to grow and guide myself along a path full of learning, sharing, safety and healing. I am a general member of the American Herbalist Guild working on Registered Herbalist status.
In being a general member of the guild, I have the utmost respect for their mission to support and guide herbalists with a code of ethics.
For me, I have found my niche in being a canine herbalist and focusing on the plants and foods most beneficial to dogs and their relationship to the natural world. Dogs are a huge part of my life and using herbs and holistic modalities to help heal them and create vibrancy was a natural progression. Fusing herbs with my experience with dogs has grown into a teaching practice that I truly love and share with others as much as I can.
Code of ethics
In my practice, I follow the code of ethics of the American Herbalist Guild. My membership is the guild is that of a general member. I am currently working towards professional membership as stated in the guilds requirements. See requirements here. As a general member of the guild, I am bound by their code of ethics.
Informed Consent/Full Disclosure - AHG members will provide their clients and potential clients with truthful and non-misleading information about their experience, training, services, pricing structure and practices, as well as disclosure of financial interests if they can present a conflict in practice; and will inform their clients that redress of grievances is available through the American Herbalists Guild or through the appropriate agency where the member is operating under a state license.
Confidentiality - Personal information gathered in the herbalist/client relationship will be held in strict confidence by the AHG member unless specifically allowed by the client.
Professional Courtesy - AHG members shall present opinions about and experiences with other practitioners and healing modalities in an ethical and honorable manner.
Professional Networking - Clients shall be encouraged to exercise their right to see other practitioners and obtain their botanicals from the source of their choosing.
Practitioner as Educator - AHG members shall assume the role of educators, doing their best to empower clients in mobilizing their own innate healing abilities and promotion the responsibility of clients to heal themselves.
Peer Review - AHG members shall welcome a peer review of their publications, lectures, and/or clinical protocols. Peer review is a primary means of enhancing our level of knowledge and expertise and should be encouraged.
Referrals - AHG members shall recognize their own limitations when they feel a condition is beyond their scope of expertise and practice as an herbalists, or when it is clear that a client is not responding positively to therapy.
Avoiding Needless Therapy - Recommendations shall be based solely on the specific needs of the client, avoiding excessive or potentially needless supplementation.
Environmental Commitment - AHG members should acknowledge that individual health is not separate from environmental health and should counsel clients to embrace this same Earth-centered awareness.
Humanitarian Service - AHG members should be open and willing to attend to those in need of help without making monetary compensation the primary consideration.
Quality Botanicals - AHG members should endeavor to ensure that the botanicals they use are formulated and manufactured in a way that will deliver the desired therapeutic results, striving to obtain organically grown and ethically harvested botanicals whenever possible.
Testimonials