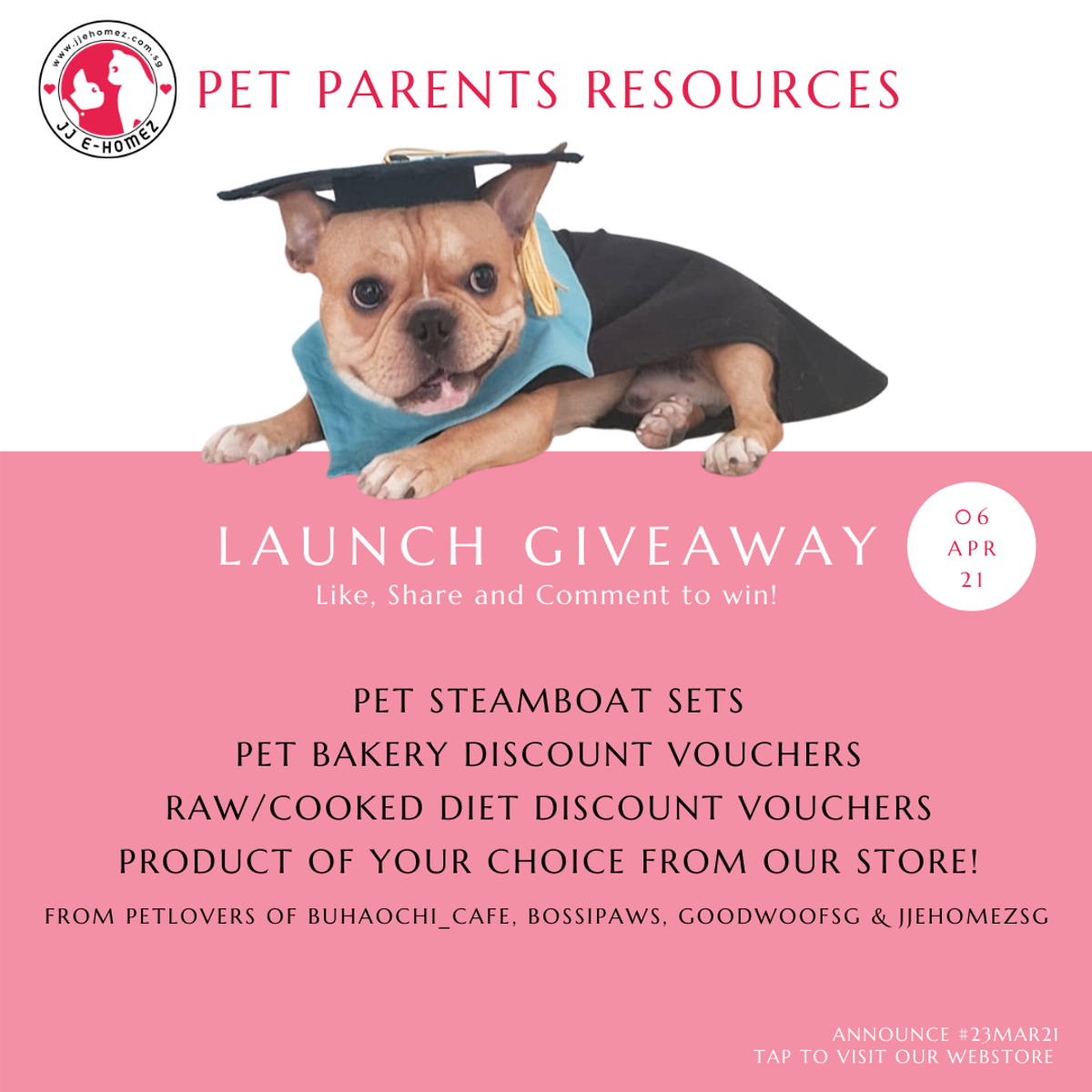 Sharing Session #23Apr21
Hi, Pet Parents Resources is a platform, where we share with you, what we research as pet parents ourselves. Here, we curate and give, what we hope would be, interesting to important informative articles, videos and even podcasts from our brand creators, experts, researchers, and more all over the world, to aid you in making better choices for your pets.
THE BIRTH OF JJ E-HOMEZ PET PARENTS' RESOURCES
2 Weeks ago, we welcome the birth of JJ E-homez's Pet Parents' Resources. Our experience with our furkid, Wangcai, was the brainchild and the start of it all. We believe that there are many pawrents out there who could benefit from our growing pains in our journey with Wangcai, so that both pawrents and furkids would no longer have to go through what we did. So yes, sharing is caring! It is our wish to provide a platform for pawrents out there to know and allow the consideration of different approaches to pet care, an avenue that would contain credible resources that has undergone plenty of research, and most importantly, for us to have a place to learn and grow as pawrents.
JJ E-homez's Pet Parents' Resources Page is something we hope to grow that would be like a little educational guidebook for the pet parents out there who feel clueless and hapless when it comes to the caretaking of your furkids. There can be no cookie cutter formula as every furkid is an individual of their own, but nothing a lot of love and effort would not make up for.
To celebrate this page launch, we partnered with some pet lovers from GoodWoofSG, BossiPaws Bakery, Buhaochi Cafe to have a little giveaway.. If you were one of our participants for our official launch giveaway, a big thank you for joining us! Now that you know of us, please do drop by often to check us out. If you have something you would like to share, please feel free to drop us a mail or anything in any of our inboxes, we believe that all pawsome goodness should be shared with all pet parents out there so that we could all grow in knowledge together and have happier furkids. We look to bringing quality content that would benefit you and your furkid.
Congrats to the following winners on our launch giveaways. Winners please remember to claim your prizes by 30th April!
GoodWoof SG Raw/Cooked Diet 7% Discount Vouchers.
@charlottewebb2016
@mochi.thelittleterror
@may june
@Christina Lim
@buddythebelovedpoodle
Bossipaws Bakery $20 Discount Vouchers.
@cheesiang1062
@toto.isme.maltipoo
BUHAOCHI cafe Pet Steamboat worth $25.80.
@qiqii_
@momo_thetoypoodles
JJ E-Homez product of own choice.
If you didn't manage to participate this round, not to worry as we are gonna feature more giveaways in the near future.
Here is the full video of our launch session. We sincerely apologize for the unclear video due to platform issues, though we promise we are already working hard at making our next video better! Stay tune!
---
You may find more interesting reads from JJ E-Homez today! Look out for loads of information on our product pages, social media, especially our Pet Parent Resources page.
JJ E-Homez, a Singapore online pet store that focuses on the holistic well-being of your beloved furkid. Our recommended products aim to support and improve health, emotional and physical well-being, and help your pet have a better quality of life without compromise. Look out for Essential, Trendy and Premium quality pet products that are specially curated, with pet parents concerns' as priority.
Thank you for reading! We hope to bring you more informative and exciting articles from other resources and our varying retail brands. Through them, we hope more and more pet parents could become their pet's wellness heroes, proactively taking control of their pets' foundational health from within, with JJ E-Homez - www.jjehomez.com.sg 😊
---
Disclaimer:
JJ E-Homez has written this entry that may contain and express an element of consumer opinion, but cannot be held responsible for any information inaccuracies in it or any use assumed from this information by the reader. JJ E-Homez welcomes positive recommendations for holistic healthcare products, and acknowledges that each animal is an individual and may react differently to the highlighted product/s while that there may also be other similar effective products available.
General recommendations made, if any, by JJ E-Homez are solely for informational and educational purposes, and are not a substitute for the appropriate veterinary care. It is important to always consult professional help if you have concerns about your furkid's health.
---