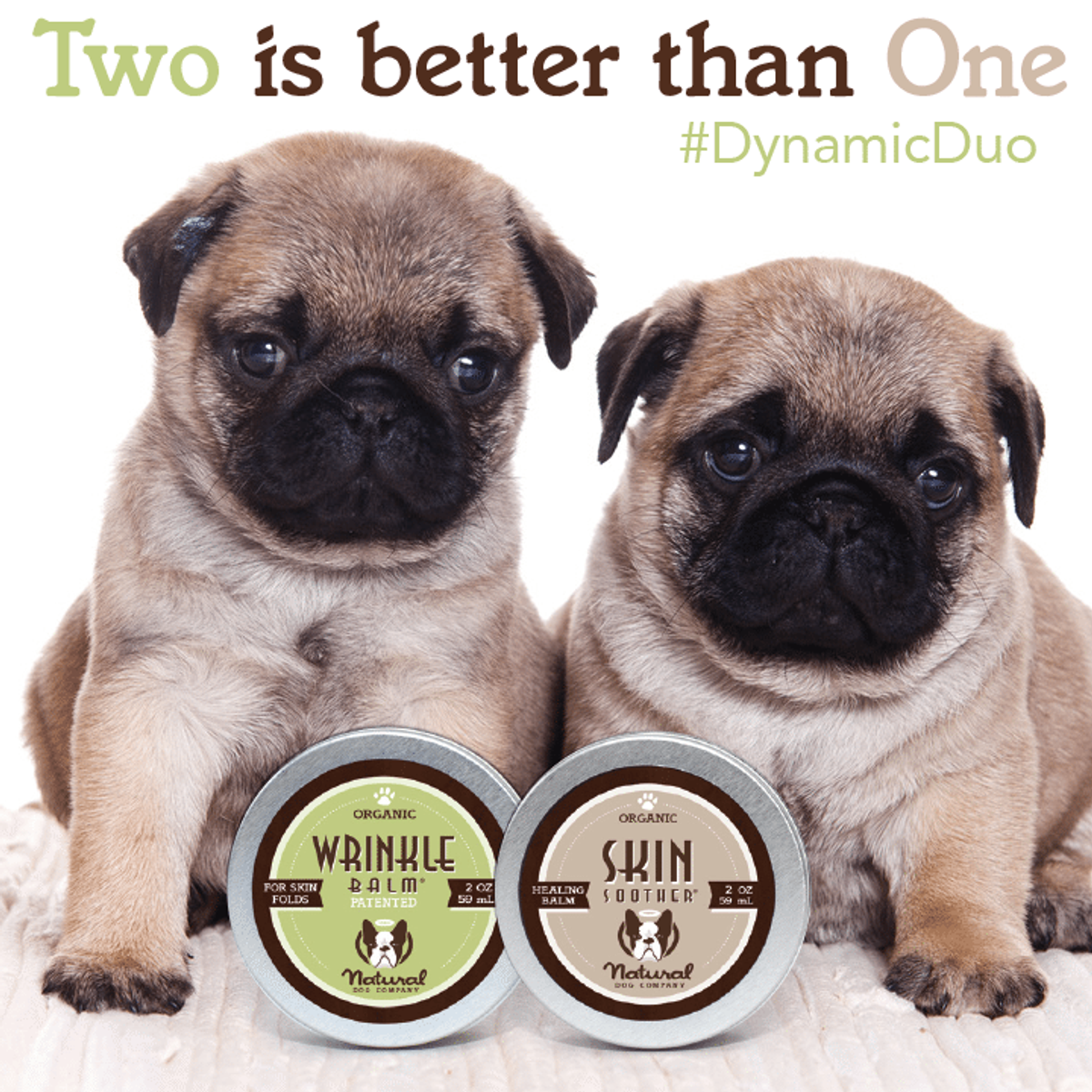 Recommended Article #29Jun20
Hi, Pet Parents Resources is a platform, where we share with you, what we research as pet parents ourselves. Here, we curate and give, what we hope would be, interesting to important informative articles, videos and even podcasts from our brand creators, experts, researchers, and more all over the world, to aid you in making better choices for your pets.
This recommended article "Your Dog's Skin Issues can be Soothed, Healed & Treated" is curated and sourced from Natural Dog Company. If you loved this article, please do feel free to share it around.
YOUR DOG'S SKIN ISSUES CAN BE SOOTHED, HEALED & TREATED WITH SKIN SOOTHER + WRINKLE BALM
Stinky, itchy, red or irritated wrinkles got your pup howling the blues? There's Wrinkle Balm for that! Is your BFF suffering from larger dog skin issues such as cuts, burns, inflamed bug bites or infections? If so, Skin Soother is proven to do the trick.
Both Wrinkle Balm and Skin Soother are made from similar all natural, organic and vegan ingredients, but they are uniquely different in a number of ways. When paired together they have the power to heal and prevent your dog's skin issues. There's good reason we pack them together into one dynamic duo.
WHAT SETS THEM APART?
Wrinkle Balm is a more mild formula, made for regular use on for your dog's most sensitive parts. You can use Wrinkle Balm regularly in order to keep your dog's skin issues at bay, and prevent the formation of stinky, inflamed skin as well as the build up of yeast, bacteria and other common skin irritations.
Wrinkle Balm prevents and treats the following ailments:
Skin fold dermatitis
Yeast and bacterial infections
Red, inflamed, chaffed skin
Crusty buildup
Scabs, pimples or sores
Itchy, flaky skin
Hair loss
Stinky odors
When Wrinkle Balm isn't strong enough, you need to bring in the 'big guns' aka Skin Soother. Whilst still gentle, Skin Soother is a stronger formula proven to battle off some of the toughest skin conditions.
Skin Soother provides soothing relief and healing power to the following dog skin issues:
Wounds, cuts, scrapes and burns
Acne, skin rashes and other irritations
Post surgery wounds
Yeast, fungal or bacterial infections
Inflamed bug bites
Prevents infections
Reduces scarring
Soothes discomfort and reduces itching
WHY THEY MAKE A GREAT PAIR WHEN IT COMES TO HEALING & PREVENTING YOUR DOG'S SKIN ISSUES
Wrinkle Balm is a great everyday solution to prevent the build up of infections, irritations and other skin disorders that commonly impact dogs in between their facial wrinkles and other sensitive areas. You can use Wrinkle Balm worry-free as often as you want. No matter how much of it your dog eats or comes into contact with, you can rest assured they are 100% safe.
Skin Soother is used as more of a spot-treatment, or when more serious skin conditions crop up, such as injuries, infections, cuts, burns, rashes and so forth.
It can also be used when Wrinkle Balm is not strong enough to combat the issue. For extra sensitive pups, Skin Soother may be too intense. If you're dog is extremely sensitive you may want to start out with Wrinkle Balm first.
When you have both Skin Soother and Wrinkle Balm on hand, there's nothing that can stand in your dog's way of clear, healthy and great smelling skin!
KEEP YOUR DOG'S SKIN LOOKING & FEELING ITS BEST 360 DAYS A YEAR
Dog skin issues are ruff! From dry, crusty, stinky and infected skin between wrinkles on your dog's face, to red and inflamed skin on your dog's tummy, together Wrinkle Balm and Skin Soother can reduce discomfort, heal and prevent future skin ailments. Now that's something to bark about!

You can purchase Wrinkle Balm and Skin Soother together from JJ E-Homez Holistic Pet today!
---
You may find more interesting reads from JJ E-Homez Holistic Pet today! Look out for loads of information on our product pages, social media, especially our Pet Parent Resources page.
JJ E-Homez Holistic Pet, a Singapore online pet store that focuses on the holistic well-being of your beloved furkid. Our recommended products aim to support and improve health, emotional and physical well-being, and help your pet have a better quality of life without compromise. Look out for Essential, Trendy and Premium quality pet products that are specially curated, with the pet parents concerns' as a priority.
This blog first appeared on the Natural Dog Company website, where this article "Your Dog's Skin Issues can be Soothed, Healed & Treated" was curated and sourced from.
Original source: https://naturaldogcompany.com/dogs-skin-issues/
*Do note that original source can be removed without notice.
Thank you for reading! We hope to bring you more informative and exciting articles from other resources and our varying retail brands. Through them, we hope more and more pet parents could become their pet's wellness heroes, proactively taking control of their pets' foundational health from within, with JJ E-Homez Holistic Pet - www.jjehomez.com.sg 😊
---
Disclaimer:
JJ E-Homez Holistic Pet has curated and reproduced this article in good faith, which may contain an element of consumer opinion, but cannot be held responsible for any information inaccuracies in it or any use assumed from this information by the reader. JJ E-Homez Holistic Pet welcomes positive recommendations for holistic healthcare products, but does not necessarily endorse the author's opinion. We acknowledge each animal is an individual and may react differently to the highlighted product/s, and that there may also be other similar effective products available.
General recommendations made by JJ E-Homez Holistic Pet are solely for informational and educational purposes, and are not a substitute for the appropriate veterinary care. It is important to always consult professional help if you have concerns about your furkid's health.
---
---
Related products