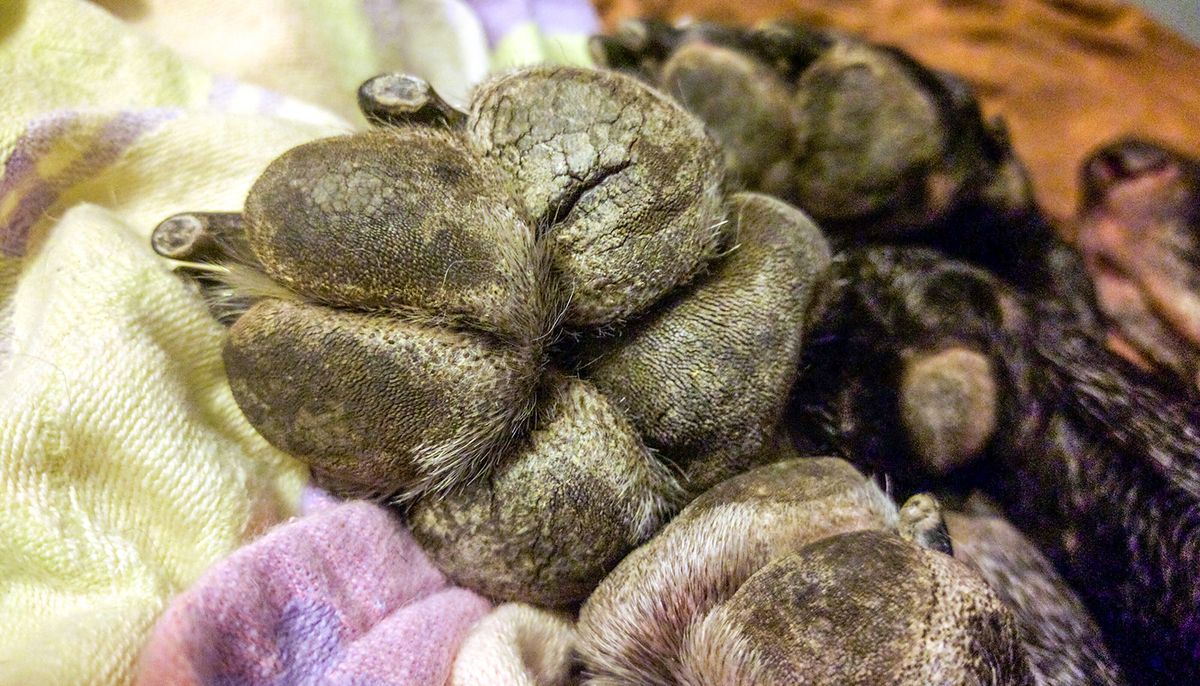 Recommended Article #23Nov22
Hi, Pet Parents Resources is a platform, where we share with you, what we research as pet parents ourselves. Here, we curate and give, what we hope would be, interesting to important informative articles, videos and even podcasts from our brand creators, experts, researchers, and more all over the world, to aid you in making better choices for your pets.
This recommended article "The Cure For Rough Dog Paws" is curated and sourced from Natural Dog Company. If you loved this article, please do feel free to share it around.
The Cure For Rough Dog Paws
Are rough and cracked paws a worry you feel hapless about? We hear you. If anything, it is very common for dog paws to become dry, rough, or even cracked for a variety of reasons. Unfortunately, this could then leave your canine friend with no choice but to compulsively nibble and lick its paws for relief, often worsening what is already a bad problem.
The best thing to do for those rough or dry paw pads would be to provide natural, moisturizing relief. All-natural ingredients are very vital because dogs often lick their paws, so if your dog were to ingest toxic ingredients, your furkid would not only possibly end up agitated, it would most probably end up feeling really ill.
MEET PAW SOOTHER®: AN ALL-NATURAL REMEDY FOR ROUGH PAW PADS
Your dog's paw pads play an essential role in their everyday life as they depend on them to get around everywhere. While these pads are made specifically to protect the canine paws against the elements, but that does not mean they can stand up to everything.
Paw Soother is a specially formulated, herbal based treatment meant to soothe, moisturize, heal and protect those dog paws from the elements. It is made of all natural ingredients: organic cocoa butter, organic shea nut butter, grape seed oil, organic hempseed oil, candelilla wax, oranic jojoba oil, organic sunflower oil, organic sweet almond oil, tea tree oil, natural vitamin e and rosemary extract.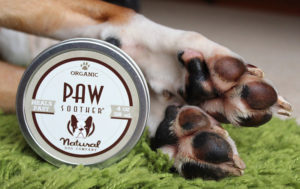 WHAT CAUSES DRY PAW PADS?
Most of the time, dry dog pads can be traced back to four environmental causes: hot pavement, wintery conditions, exposure to chemicals, and allergies.
Hot weather (and pavement)
When the weather is hot, the heat of the concrete can damage the skin on the bottom of your dog's paws. To avoid the problem of blistered paws, choose to walk your dog at times before the sun has a chance to heat the concrete, or after the sun has cooled down. If your dog is a beach lover, sand and salt water are elements that could damage paw pads.
Cold weather and dry air
Cold air and low moisture are elements that could dry out your dog's paws. As dog expert Cesar Milan says, "Winter can be tough on our dog's feet, but good grooming and protecting the paws by using a balm or booties will go a long way to keeping your dog's feet healthy."
Exposure to irritating chemicals
In winter, roads and sidewalks may be covered with de-icing salts. In summer, gardens are abound with fertilizers. Even those everyday household cleaners contain questionable ingredients. Not only are some of those chemicals toxic to your dog's skin; they are also ingested when your dog licks its paws. So it is good to cultivate the habit of wiping off your dog's paws after a walk to remove potentially harmful chemicals.
Allergies
Just like humans, many dogs suffer from environmental and food allergies. These allergies can make their paws itch. When the scratching and nibbling starts, cracks happen, these lead to open wounds, which could in turn sometimes lead to infections.
A DOG'S PADS ARE AN IMPORTANT INDICATOR OF OVERALL HEALTH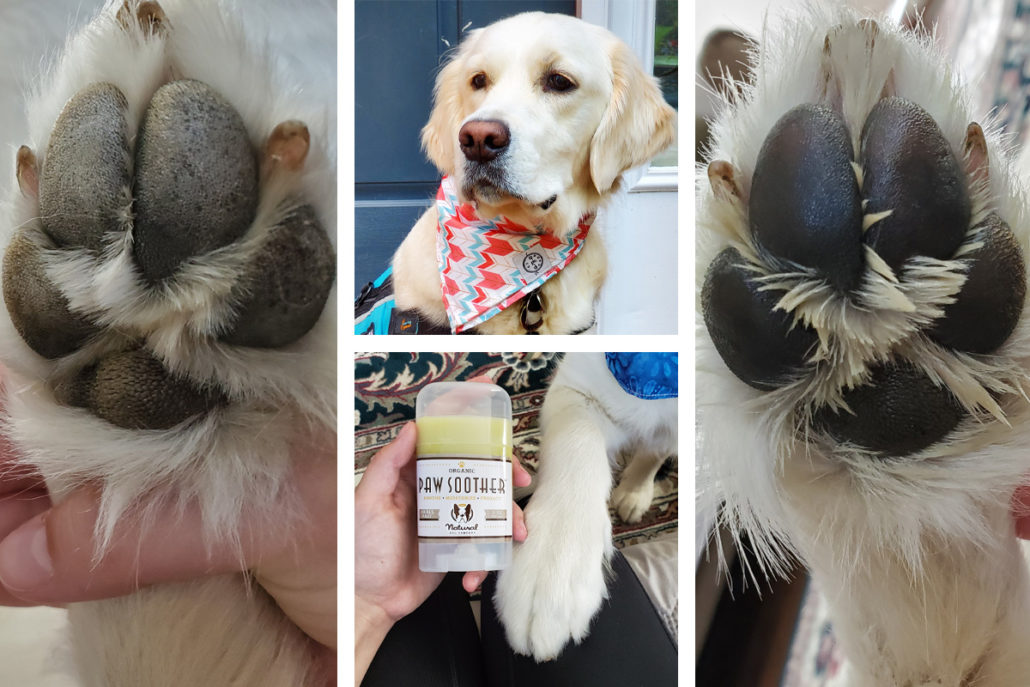 Veterinarian Dr Donna Raditic says that a dog's paw pads could be an important indication of your dog's overall health.
"The cells in a dog's paw pads have a high turnover rate. They require a lot of nutrition and a lot of blood supply. If something isn't perfect in the body it can show up there first. But we tend not to think that way. It can take something drastic before we notice there's something wrong with our dog's health." — Dr. Donna Raditic, DVM, DACVN, CVA
If you have been good in regularly moisturizing your doggie's paws without seeing any improvement, it is certainly time to call your vet for help. Certain types of liver disease, dermatologic issues, and metabolic issues could well be at play.
DRY PAWS CAN BE A SYMPTOM OF HYPERKERATOSIS
Cracked paws could be the result of a condition called hyperkeratosis. Hyperkeratosis occurs when the skin produces too much keratin. That makes the skin on the paw pads, as well as other parts of the body, thick and callous-like.
DRY PAW Frequently Asked Questions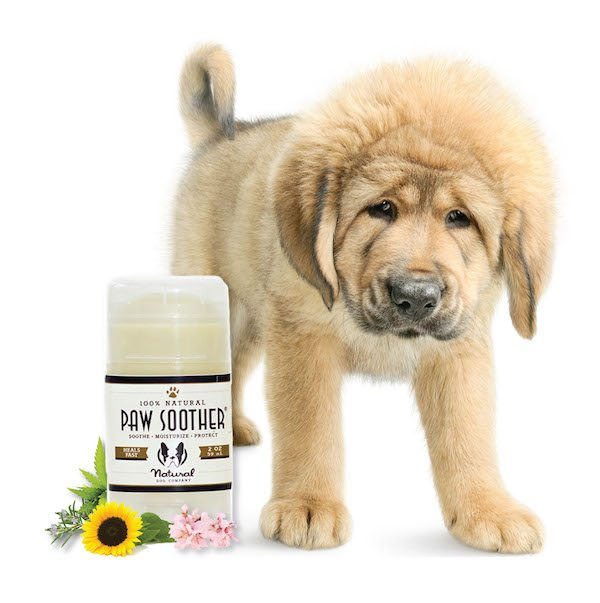 No matter the breed, all dogs are prone to rough, cracked paw pads. Thankfully, Paw Soother is here to the rescue!
ARE DOG PADS SUPPOSED TO BE ROUGH?
It is entirely normal for a dog to develop rough paws, but they do not have to be that way, or stay that way for the matter. A healthy paw pad should be smooth to the touch and free of all abrasions.
Over time, dog paws build up a tolerance and become stronger. However, once paw pads are rough and dry, it is hard for them to heal if they are routinely exposed to the same irritant.
CAN I PUT NEOSPORIN ON MY DOG'S PAW?
Neosporin is technically safe for pets, but it is certainly not recommended to apply it anywhere your dog is likely to lick, including the paws. While ingesting small amounts of Neosporin would not do any permanent damage, it would actually kill healthy gut bacteria. The result: Your dog might end up throwing up or having diarrhea. Using a natural moisturizer like Paw Soother would help avoid this problem.
"A second potential cause of gastrointestinal upset would be the lubricant base," says Dr. Danel Grimmett, a veterinarian with Sunset Veterinary Clinic in Oklahoma. Ingesting that "could also give them diarrhea, etc."
HOW DO I TREAT A YEAST INFECTION ON MY DOG'S PAWS?
For serious infections, veterinarians usually prescribe oral and topical antifungal medications. If possible, do consider natural treatment instead. An all natural treatment is always better for your fur friend.
IS IT NORMAL FOR DOGS PAW PADS TO PEEL?
A little bit of peeling is very normal as this is part of a paw's normal wear. Paw moisturizers are great for this type of scenario. However, if you notice your dog not wanting to put its weight on the paw or licking it obessively, do take a closer look for lacerations, burns, or signs of infection like redness and swelling.These types of injuries may require cleaning and antibacterial treatment from the vet.
You can purchase Paw Soother from JJ E-Homez Holistic Pet today!
---
You may find more interesting reads from JJ E-Homez Holistic Pet today! Look out for loads of information on our product pages, social media, especially our Pet Parent Resources page.
JJ E-Homez Holistic Pet, a Singapore online pet store that focuses on the holistic well-being of your beloved furkid. Our recommended products aim to support and improve health, emotional and physical well-being, and help your pet have a better quality of life without compromise. Look out for Essential, Trendy and Premium quality pet products that are specially curated, with the pet parents concerns' as a priority.
This blog first appeared on the Natural Dog Company website, where this article "The Cure For Rough Dog Paws" was curated and sourced from.
Original source: https://naturaldogcompany.com/paw-soother-how-to-heal-your-dogs-dry-cracked-paw-pads/
Thank you for reading! We hope to bring you more informative and exciting articles from other resources and our varying retail brands. Through them, we hope more and more pet parents could become their pet's wellness heroes, proactively taking control of their pets' foundational health from within, with JJ E-Homez Holistic Pet - www.jjehomez.com.sg 😊
---
Disclaimer:
JJ E-Homez Holistic Pet has curated and reproduced this article in good faith, which may contain an element of consumer opinion, but cannot be held responsible for any information inaccuracies in it or any use assumed from this information by the reader. JJ E-Homez Holistic Pet welcomes positive recommendations for holistic healthcare products, but does not necessarily endorse the author's opinion. We acknowledge each animal is an individual and may react differently to the highlighted product/s, and that there may also be other similar effective products available.
General recommendations made by JJ E-Homez Holistic Pet are solely for informational and educational purposes, and are not a substitute for the appropriate veterinary care. It is important to always consult professional help if you have concerns about your furkid's health.
---
---
Related products