Recommended Article #21Sept22
Hi, Pet Parents Resources is a platform, where we share with you, what we research as pet parents ourselves. Here, we curate and give, what we hope would be, interesting to important informative articles, videos and even podcasts from our brand creators, experts, researchers, and more all over the world, to aid you in making better choices for your pets.
This recommended article "Larch Arabinogalactan for Dogs, Cats and Horses: a Powerhouse to Help Prevent Cancer and Chronic Disease" is curated and sourced from Adored Beast Apothecary. If you loved this article, please do feel free to share it around.
Larch Arabinogalactan for Dogs, Cats and Horses: a Powerhouse to Help Prevent Cancer and Chronic Disease
It was almost 25 years ago when Dr Julie Anne Lee first started her research on gut health and the microbiome in her interest to find a prebiotic that would aid the health of dogs and cats than what was being used in human health. After all, dogs and cats are very different to human beings.
Although the dog or cat species did not really consume a prebiotic, the prey they consumed most certainly did; and so, it was found, that the one thing they ate, which was a prebiotic, was tree bark! Enter Larch Arabinogalactan for dogs and cats!
What is Larch Arabinogalactan for Dogs, Cats, and some say Horses?
Larch Arabinogalactan is a natural substance found in the bark of the larch tree (Larix occidentalis). While Arabinogalactan is found in many plants, but it is found in especially high concentrations in the larch tree.
Larch is a type of digestible fibre, a sugar in fact. Technically, it is a polysaccharide, a complex long chain carbohydrate that is very important for nutrition.
What is to Love About Larch?
Larch has been used as a natural medicine to aid in several different health conditions for many years. Thanks to its potent biological activity, immune-enhancing properties, and peculiar solution properties, this unique dietary fibre is garnering increased attention as a clinically useful nutraceutical agent.
Polysaccharide-rich foods in general have been used for centuries around the globe because of their many health benefits. Certain polysaccharides are especially popular because of how they support the immune system and because they fight inflammation and tumor growth.
There are so many potential health benefits of this amazing plant. Here are just some of the many conditions it is good for:
Asthma
Constipation
Ear infections
Flu
High cholesterol
Liver cancer
Liver disease
Pneumonia
The Benefits of Larch for Our Pets
In dogs, research has shown that it can:
Enhance natural killer cells and macrophages
Boose the secretioin of pro-inflammatory cytokines
Increase intestinal bacterial - example: Lactobacillus
Prevent cancer cells in the liver from growing
One of the biggest draws of larch arabinogalactan for dogs (or cats or horses…) is how it works to improve gut health.
Recent research in human and animal medicine has shown revealed that the gut is responsible for more than 80 percent of the immune system! The main component of a healthy gut, is the friendly probiotic bacteria that live there. This is what will combat the bad bacteria in the system, their main function, to act as the gatekeepers to stop intruders and keep the mucosal lining healthy so the body receives its vital nutrition.
Arabinogalactans are prebiotics, which are what feeds the beneficial bacteria colonies in your furkid's gut. Without prebiotics, probiotics would just starve and die. Good gut health does wonders for your pet's overall health. It helps keep the immune system stable and helps the body fight off harmful bacterial.
Arabinogalactan is also an excellent source of dietary fibre. In fact, it is a Food and Drug Administration (FDA) approved dietary fibre. Research shows that Larch can increase the production of short-chain fatty acids, principally butyrate and propionate, and has been shown to decrease the generation and absorption of ammonia. When dogs consume larch arabinogalactan, it has a significant effect on their gut microflora, specifically increasing life enhancing beneficial gut bacteria.
Larch actually gives far more than just good gut health, which is why it is a such a vital part of a healthy diet.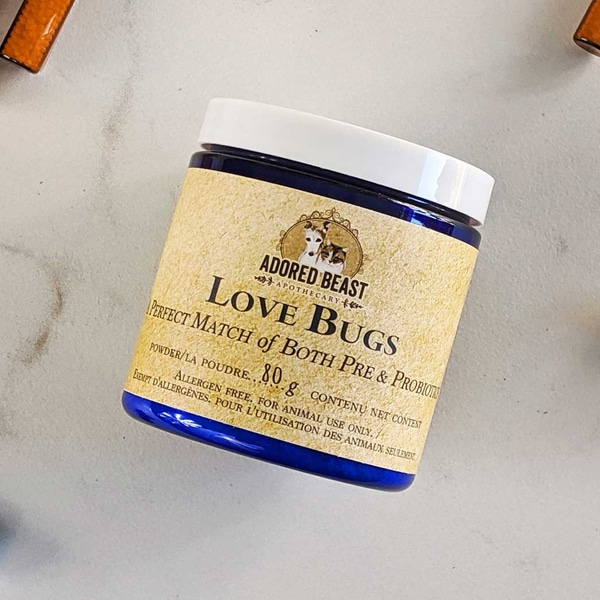 Larch Arabinogalactan: Our Aid In Fighting Cancer
These days, cancer has become a common cause of illness for our furkids. Dogs are at an alarming ratio of over 5 percent! It is heartbreaking, and in Dr Julie Anne's opinion, avoidable in many cases. Thankfully, there is research in present day to suggest that larch can play an important part in fighting back against this disease in our furry friends.
Larch actually helps to stimulate the immune system and block the spread of cancer cells by activating macrophages and natural killer (NK) cells - two really important immune cells involved in the process of fighting cancer.
Decreased NK cell activity is linked to a variety of chronic diseases, including cancer. Increasing these cells in your furkid's body means building up a strong defence – these NK cells kill invading cells (cancer cells) by forcing them to commit suicide. Macrophages are the cells that seek out, identify cancer cells and eat them.
Larch's aid in increasing the production of butyrate also help prevent and slow cancer growth as butyrate can cause apoptosis (cancer cell death)
Adding Larch to Your Pet's Diet
Arabinogalactan is found in the highest quantities in the larch tree, but it can also be found in small amounts in some foods, such as coconut and carrots. It is also found in many herbs such as echinacea and astragalus. Unfortunately, there would be a need for a large consumption of these foods to get the full benefits, so it would be best, and easiest, to go with a larch supplement. Many Adored Beast Apothecary products include larch as the main prebiotic, such as Fido's Flora, Love Bugs and Healthy Gut.
Now that you know all about larch and its goodness, do not wait! Start adding it to your furkid's diet as part of a healthy supplement regimen.
You can purchase Fido's Flora, Love Bugs and Healthy Gut together from JJ E-Homez Holistic Pet today!
---
Julie Anne Lee, DCH, RcsHOM, is a qualified veterinary practitioner and graduate of the Vancouver Academy of Homeopathy, having studied with some of the world's leading homeopaths, and is an Associate Member of the British Association of Homeopathic Veterinary Surgeons, BAHVS. Aside from being the founder and owner of the Adored Beast Apothecary, where she formulates holistic pet care products and is currently working on a canine cancer research project, she has also been the owner and practitioner of some of the busiest and long-standing holistic veterinary hospitals and clinics in North America, while regularly teaching on veterinary courses.
Julie Anne is also a pioneer in studying the dog's microbiome and developing protocols for optimising gut health, which plays into the health of all our furry friends and us. In furthering a truly holistic approach to pet care, Julie Anne continues to work with vets and practitioners from all over the world.
Growing up helping in her mother's animal rescue shelter was what contributed greatly to Julie Anne's life purpose - protecting and caring deeply for animals and their health, while educating the public and fellow veterinarians to empower them to make the best choices for the ethical treatment and naturally holistic approaches to their pets' healthcare.
---
You may find more interesting reads from JJ E-Homez Holistic Pet today! Look out for loads of information on our product pages, social media, especially our Pet Parent Resources page.
JJ E-Homez Holistic Pet, a Singapore online pet store that focuses on the holistic wellbeing of your beloved furkid. Our recommended products aim to support and improve health, emotional and physical wellbeing, and help your pet have a better quality of life without compromise. Look out for Essential, Trendy and Premium quality pet products that are specially curated, with the pet parents concerns' as a priority.
This blog first appeared on the Adored Beast Apothecary website, where this article "Larch Arabinogalactan for Dogs, Cats and Horses: a Powerhouse to Help Prevent Cancer and Chronic Disease" was curated and sourced from.
Original source: https://blog.adoredbeast.com/larch-arabinogalactan-for-dogs-cats-and-horses-a-powerhouse-to-help-prevent-cancer-and-chronic-disease/
Thank you for reading! We hope to bring you more informative and exciting articles from other resources and our varying retail brands. Through them, we hope more and more pet parents could become their pet's wellness heroes, proactively taking control of their pets' foundational health from within with JJ E-Homez Holistic Pet - www.jjehomez.com.sg 😊
---
Disclaimer:
JJ E-Homez Holistic Pet has curated and reproduced this article in good faith, which may contain an element of consumer opinion, but cannot be held responsible for any information inaccuracies in it or any use assumed from this information by the reader. JJ E-Homez Holistic Pet welcomes positive recommendations for holistic healthcare products, but does not necessarily endorse the author's opinion. We acknowledge each animal is an individual and may react differently to the highlighted product/s, and that there may also be other similar effective products available.
General recommendations made by JJ E-Homez Holistic Pet are solely for informational and educational purposes, and are not a substitute for the appropriate veterinary care. It is important to always consult professional help if you have concerns about your furkid's health.
---
---
Related products